Today I'm sharing a furniture makeover with ya'll that is with a line of paint I had never used before! Fusion Mineral Paint is made by the same parent company (Homestead House) that makes Miss Mustard Seed Milk Paint (which I use lots and love), so I figured it was a safe bet. I've teamed with some fellow vintage furniture lovers that also love to paint, headed up by Jamie, So Much Better With Age. She came up with the idea and organized the giveaway, so I'm excited to be a part of it!
Here is my makeover using Fusion Mineral Paint:
The color is Homestead Blue, which is a deep teal-blue that is similar to Aubusson by ASCP (if you are familiar with her colors).
The paint was easy to use and I LOVE their color palette– very european-esque. I sanded the shiny surfaces before painting, and I would say make sure there is no shiny surfaces before-hand (using a deglosser or sander), as it will make it more durable in the long-run.
(I snapped a quick pic before I was finished sanding because I realized I didn't have a 'before'! The drawer pulls were typical chippendale style, the top crown was loose, and the other handles were just small metal ones. Overall it was super scratched up)
After:
The secretary is my new fav and got for a great deal at a thrift store. I was over-the-moon that the wooden fretwork on the doors was still in-tact and in good shape!
I painted the interior white because I wanted the fretwork to really stand out. I also love that the letter organizer was still there and in great shape.
I originally was thinking I was going to have to sell it, since I couldn't think of any place to put it in my home. However, it is less than 3 feet wide and a little over a foot deep, so it was the perfect size to fit on this wall in our dining room. Previously it held a gallery wall of cutting boards, but I was ready for a change, and now I can't stop admiring this beauty. I think it is the perfect color, don't you?
The knobs are some small vintage ones I salvaged from a previous dresser I made over months ago. They were the perfect size and the right contrast for this blue. I deliberately distressed extra around the knobs to give the illusion that it is old and was worn away with years to opening the cabinet doors. I felt it distressed similar to latex paint, so I was careful to not over-do it.
At the same thrift store I picked up a set of blue and white china. It is the Churchill collection and even though they aren't super old, the pretty images on each one makes me smile. I'm only *slightly* obsessed with blue and white. 😉
Things I liked about Fusion Mineral Paint was
-the clear jar, which makes it easy to see how much you have left
-screw lid- prevents drying out and makes shaking up very easy
-ease of application
-color richness
-coverage
I only painted and finished it on Saturday, so I can't say yet how durable it is, but like all painted furniture, I am going to be gentle with it for the first 21 days until it fully cures. The paint has a semi-matte finish and doesn't look like it NEEDS a top coat, but if you distress the edges like I did and lightly sand (220) over any bumps or bits dried into the paint, it sorta removes that semi-matte finish and needs a top coat. I used wax but but you could use another topcoat, like a water-based polycrylic after it has done the initial cure of 24 hours.
So that's it! What do you think of the secretary for the dining room?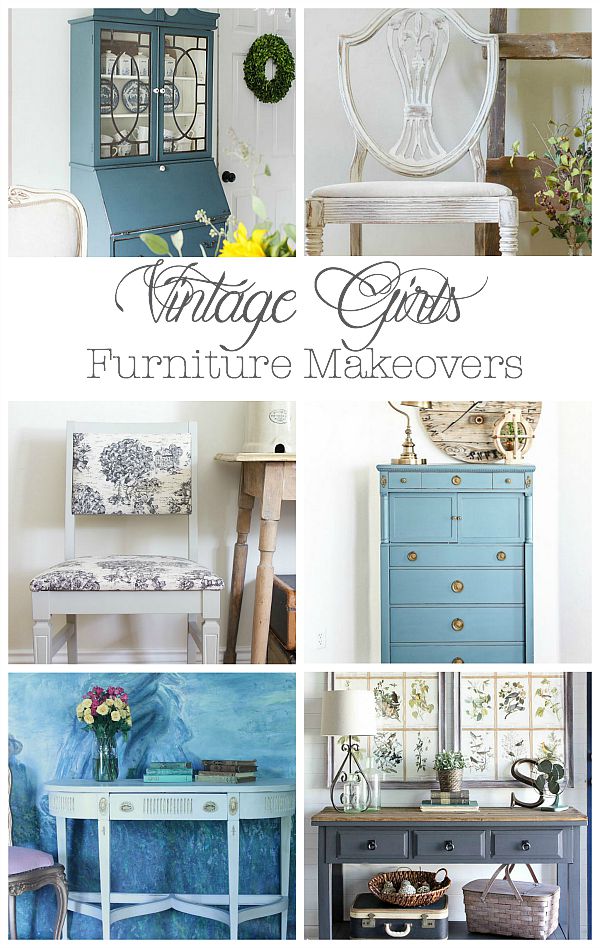 Visit all the Vintage Girls makeovers:
Jamie from So Much Better With Age
Jamie from Anderson and Grant
Rachel from Maison de Pax
Lauren from Bless'er House
Victoria from Trois Petite Filles
Rachel from Shades of Blue Interiors