Before the freezing temps hit in November, why not host an outdoor evening Friendsgiving on your patio while some leaves remain on the trees?
I love the idea of a Friends-giving even though I have never attended one or hosted one. I don't live near any of my dear friends whom I would invite which is a bummer but you get used to living far after awhile.
Honestly the idea of reuniting with all of them around a table enjoying good food makes me sorta teary. It's like a good dream that you don't want to wake up from so you close your eyes and cling to those fleeting details a little longer.
I made a flower arrangement stuffed in a fairytale pumpkin and thought of Meghan. Meghan thinks I'm more amazing than I really am and tells me so often. She also sings little cheerful songs that I've never heard before and it makes me smile. She shows me how to carry on when you've been wounded.
Then I made another pumpkin arrangement for the other side of the table and thought of Camille. Camille is one of the most positive and empathetic people I've ever met, and she is generous with compliments. A laugh escapes her lips as easy as a tear escapes her eyes. Big hearted people are like that.
Then I laid out some figs and goat cheese drizzled with raw honey and thought of Lindsay. Linds is an adventurer. She loves good food, a good story, and is very loyal. She also sends the most thoughtful cards or gifts that I love and don't deserve.
I carefully folded the linen napkins and tucked them into woven napkin rings and thought of Lucy. Lucy lives to create and make everything around her more beautiful, even those she associates with. She is constantly kind and whenever I'm with her, she makes me feel like I'm her favorite.
I laid out some vintage silverware and thought of Sheila. Sheila is warm and welcoming. She has become a confidant and cherished friend this year especially when I've felt the sting of unkind words and actions from both strangers and family. She validates my feelings and is the best kind of cheerleader you want in a friend.
I lit a candle in a big gold lantern and thought of Bre and her contagious laugh. I can almost feel Bre's hugs, because they are so tight and heartfelt, you don't forget them easily. Bre speaks freely of her love for God and friends. She feels deeply, not wanting to hurt anyone, even if they have hurt her. She forgives easily.
I placed a few little white pumpkins around the table and thought of Allie. Allie is selective with who she trusts but boy it's good to be her friend. She is brilliant, kind, opinionated, and is sarcastic that is funny but not hurtful. Allie is the bravest gal I know. She teaches me it's okay to walk alone when you know who you are.
Obviously I've named too many friends than can fit around this table! We might have to open a card table to put at the end! 😉
Did your family ever do that for thanksgiving when more people showed up than expected? Growing up, we always went to a friends' house that treated us like family (no relatives close by in Juneau), and it was a common occurrence. People would walk in and whomever was closest would quickly set up another card table. The tables would start in the dining room and extend in the living room and into another sitting room adjacent. Every year there was between 20-40 people who would show up.
And then after dinner, we'd actually played cards on those card tables! It was always one game that required 1 deck per person: hand and foot. I don't even know how to play anymore because it's been too long, but it with 10-15 people playing it would take hours to finish. Coming from a very competitive family, we always stayed till the end, even if it meant staying up until 1 or 2 am.
Food has a funny way to solidifying memories. I can remember the last meal I ate the last time I hung out which each of these dear friends. Late night conversations sharing boring stuff, interesting stuff, heart-breaking stuff, not-talking and just eating or enjoying a silent moment without the pressure to fill the void with words…
As I was shooting this table, the sun set completely, so I pulled out some candlesticks and turned on the string lights by the pergola. I love how the candlelight casts a different light and creates shadows that transform a space, transform a face. It's the warmth that shines through.
I hope you enjoyed this tablescape inspired by my friends. If you live close to friends you love, maybe consider inviting them over for an outdoor evening Friendsgiving before it gets too chilly? Bring sweaters and blankets and pie, and stay up until 2 am talking, for me, will ya?
Now it time to check out this talented group below for lots of fall tablescape inspiration!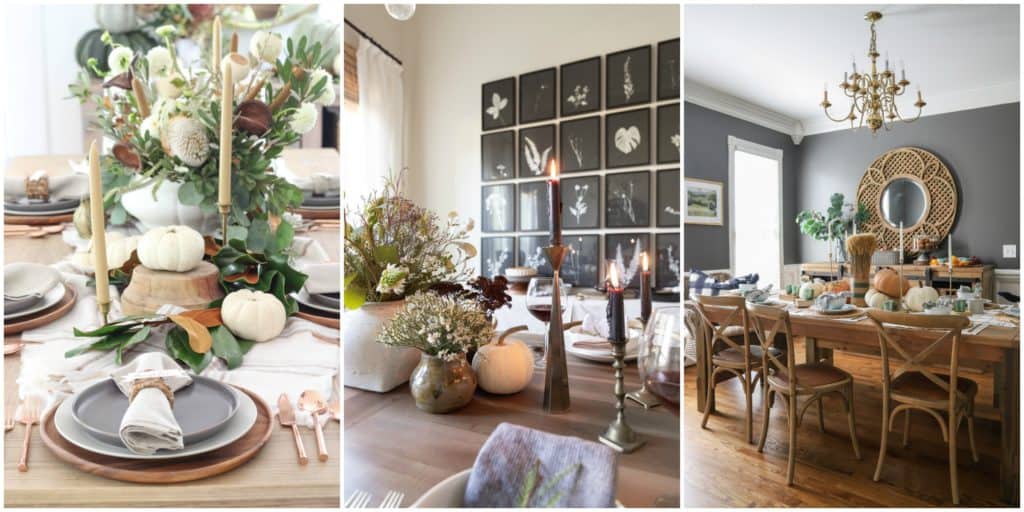 Rooms for Rent | Crazy Wonderful | The Turquoise Home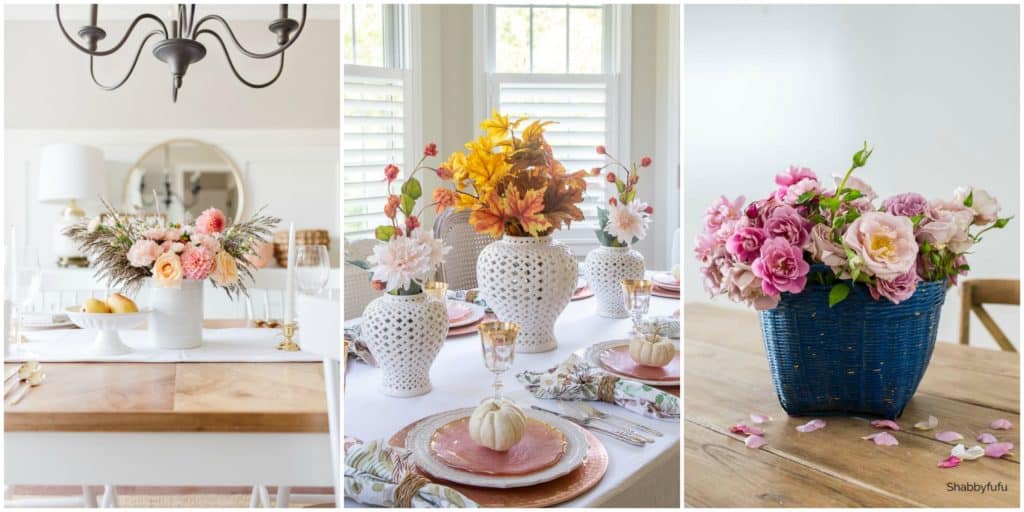 Nick + Alicia | Designthusiasm | Shabbyfufu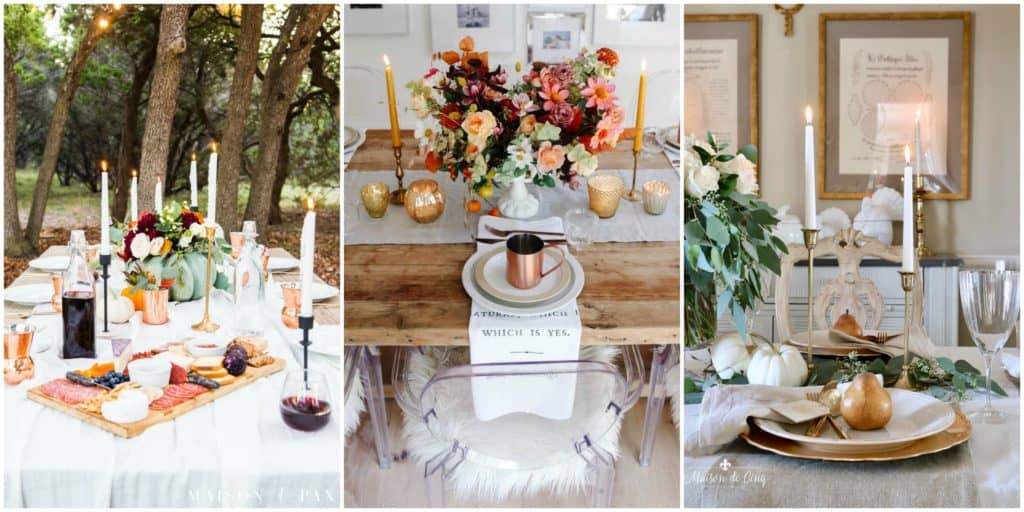 Maison de Pax | Modern Glam | Maison de Cinq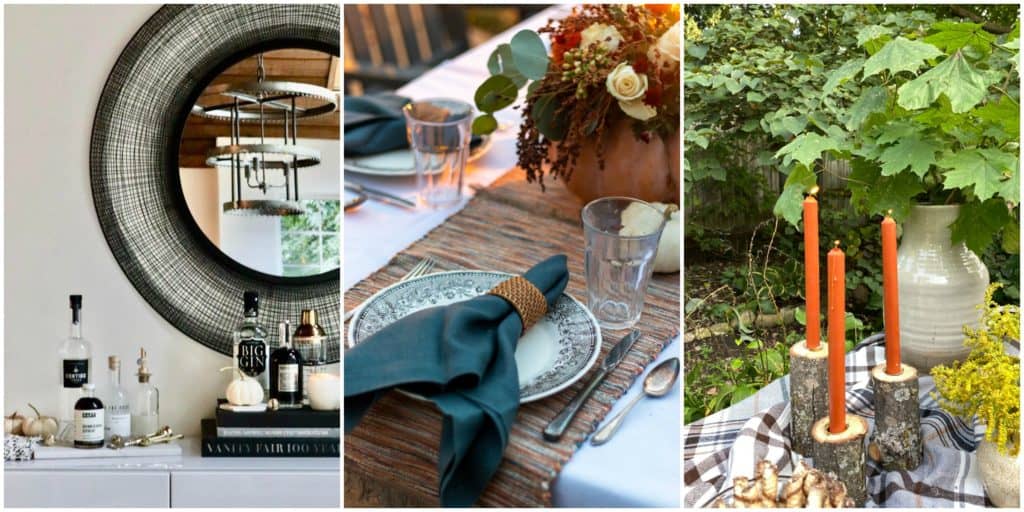 My Sweet Savannah | Shades of Blue Interiors | Jennifer Rizzo
Source List:
Runner (4 placemats placed end-to-end)
Lantern (exact style discontinued)
Candlesticks: vintage
Plates: HomeGoods
Silverware: vintage
Outdoor Table: Polywood
See more of this patio in my post here.