I've lucked out a few times at the thrift store. Usually everything good is waaaay overpriced for my budget, and everything else is just ugly. But every once in a while I find something.
I stopped in one morning looking for a basket, and walked out with this:
It's a piece I think most people would walk right by. But the insides were perfect, it had solid wood, dovetail drawers, and the pulls were so perfect and solid brass, I took a risk and decided to buy it and try to pull off a modern look. Something I haven't done before.
I polled my Facebook fans and asked which color they liked. The blue won, overwhelmingly!
So, I knew Aubusson would be my color, I just needed to polish up the brass. I started out by trying to use Rub n Buff in Gold Leaf. Let me tell you… MISTAKE! It looked cheap. So I decided to try the brass polish option. I first tried lemon juice and salt. It took fooooorrrreeeeevvvvveeeerrrrrrr…..
So I bought a bottle of Brasso!
Look at the difference!
You will need a bowl, gloves and a cloth. Just squeeze some Brasso on the pull, rub it all over the hardware, let it sit for 10-15 minutes and then rub off the Brasso with a soft cloth. I had to do the actual polishing outside because the fumes from the Brasso are overwhelming. And I was working on 8 pulls at the same time.
I wouldn't say you just wipe off the Brasso and voila, but it takes very little effort to get it all polished up. Any stubborn areas, I just put a little more Brasso on and it cleaned right up.
You will want to make sure and wash off all the Brasso completely, with water before you call it good. It can get into crevices of the hardware and will remain a bluish color unless you wash it well (I used a chip brush to get all the Brasso off from the small grooves).
To achieve this shiny, undistressed, mid-century modern finish, I started off like I normally do.
I painted a coat of Annie Sloan Chalk Paint in Aubusson. I only touched up a couple areas with a 2nd coat, but most of it didn't need a 2nd coat because the coverage is AMAZING with Aubusson.
Then, I sanded the entire thing with 220 grit sanding sponge. I wanted to diminish any brush strokes or bumps.
Then, I sanded the entire thing with 600 grit sand paper (it is a black sandpaper). This gets it SUPER smooth. I was, however, VERY careful not to sand the edges hardly at all because I didn't want them distressed.
For the topcoat, I knew I wanted something other than furniture wax. While I LOVE furniture wax for almost all of my pieces, they work BEST if you are going to distress the edges (even if it is a little bit). It doesn't create a super hard, durable finish and usually that is a desirable trait, in my opinion. It IS more forgiving if it is marred, with the ease in which you can do touch ups. But, I'd rather find something that gave me a lacquer-type finish. To get a glossy finish (what I wanted) I would have to buff the crap out of it. So, I knew I needed a type of poly in a gloss finish. (I could have gone with Verathane for floors in clear gloss because it doesn't yellow, but I couldn't find a small can ANYWHERE and at $40 for a large can that I wouldn't use that often, I decided it wasn't worth the splurge.)
After much research I decided to go with a polyurethane that was water based (because water based usually doesn't yellow), was durable and had a gloss finish.
I decided on this:
I bought the smallest can, which was sufficient for 3 coats on the entire dresser. I applied it with a foam brush and here are the reasons why:
1. I don't have a sprayer (the best option).
2. An aerosol spray can would be difficult to get even coats, and I would probably use several cans to get 3 coats, AND it would cause overspray in my house because if I did it outside, I would be worried about pollen or things floating in the air sticking to the finish.
3. A sponge roller would likely cause bubbles to form when applying the poly.
After the first coat I wasn't impressed. It wasn't glossy. But I persisted. After the second coat it got a little better and after the third coat it had a nice glossy sheen.
Not sure why the shadow looks green, but this is the ONLY picture I have of this dresser in my house. Doesn't the shiny brass hardware look fantastic?!?
Here it is, right before it sold at VMD. It was so crowded, that I don't think it was possible to photograph this one from top to bottom, but you get the idea.
I really love the deep teal color of Aubusson and the over-all look of this mid-century modern dresser!
Hopefully you can feel a little more confident that Chalk Paint CAN be used to achieve a modern look!
Linking up with these lovely blogs: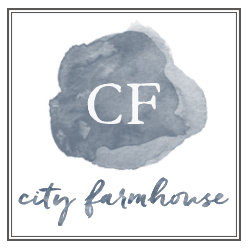 /div>